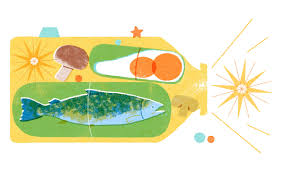 What does Vitamin do for the body?
Helps the body absorb calcium and phosphorus for strong bones and teeth
Protects against infections and some types of chronic diseases
helps protect older adults from osteoporosis
What are the benefits of Vitamin D?
Reduction of inflammation
Modulation of cell growth, neuromuscular function, and glucose metabolism.
Regulate adaptive (acquired) and innate immune responses to prevent overexpression of inflammatory cytokines
Lower the risk of breast and colorectal cancer, cardiovascular disease in men, and multiple sclerosis - This research is still inconclusive
What is the recommended Daily Dosage of Vitamin D?
2-70 years = 600 IU (15 mcg)
70+ years = 800 IU (20 mcg)
Where can I find Vitamin D?
Natural Food Sources
Fatty fish: salmon, trout, tuna
Fish liver oils
Egg Yolks
Foods fortified with Vitamin D
Cow and Goat milk
Plant based beverages
Orange juice
Sun Exposure via outdoor activity
The amount of Vitamin D produced from the Sun depends on;
season, time of day, cloud cover, smog and sunscreen, distance from the equator, amount of skin exposed to sunlight and skin pigmentation and age
How much time do I need in the Sun?
Researchers suggest 5-30 minutes exposure
from 10 a.m. to 4 p.m. daily or twice a week
Expose the face, arms, hands, and legs without sunscreen.
UVB radiation does not penetrate glass
What about Tanning Beds?
Avoid, since the UV radiation from Tanning beds is carcinogen and can cause skin cancer.
What happens if I don't get enough Vitamin D?
leads to osteomalacia, resulting in weak bones in adults and adolescents
adverse outcomes such as preeclampsia and gestational diabetes during pregnancy
How does Vitamin D Effect my Oral Health?
Plays a key role in bone and tooth mineralization
Vitamin D and calcium supplementation showed moderate positive effects on periodontal health after nonsurgical periodontal treatment
What happens if you are Vitamin D Deficient? 
oral diseases are associated with lack of Vitamin D
linkage to higher risk of tooth defects, caries, periodontitis and dental treatment failures
negatively influenced periodontal surgery outcomes
Does Vitamin D Help prevent Covid-19? 
Evidence suggests that Vitamin can play a role in fighting the virus
People with low vitamin D levels  at higher risk for serious outcomes in COVID-19
How Does Vitamin D prevent Covid-19?
Modulating the immune response to the virus
Reducing the inflammatory response to infection with SARS-CoV-2
Should Vitamin D levels be increased to mitigate risk factors & fatalities of Covid-19?
Evidence recommends you can safely increase Vitamin D levels up to 2,000 (50 mcg)
How can I naturally improve my Vitamin D levels?
By weight loss through increased activity
Take home messages of Vitamin D:
essential for good health, especially musculoskeletal health
critical for a well-functioning immune system
plays vital role in promoting health and nutritional well-being
Adapted from ODHA Weekly Audio cast with Dr. Glogauer and Kim Ivan:
Role of vitamin D in systemic health, oral health, & COVID-19
www.odha.on.ca