Dr. Michael Glogauer hopes to receive Health Canada approval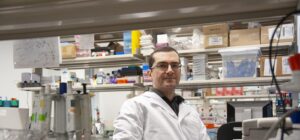 Dr. Michael Glogauer is working towards the Canadian approval of an oral swab test for COVID-19. The test is already in use in the U.S.
With cold and flu season on the horizon, Dr. Michael Glogauer believes a saliva-based test for COVID-19 will be critical to keep society functioning.
Glogauer is chief of dentistry for the University Health Network and head of dental oncology at the Princess Margaret Cancer Centre. He also operates a private, Hamilton-based practice, OMG Perio.
For the last two decades, Glogauer has been conducting research on saliva as a diagnostic tool.
Today, he's leading the charge to approve a saliva-based test for COVID-19 that's less invasive than a nasal swab. The test has been submitted to Health Canada and approval is pending.  Please click here for the entire article on the Hamilton News.
.