Researchers, public health officials calling for saliva-based testing for students Lauren Pelley CBC News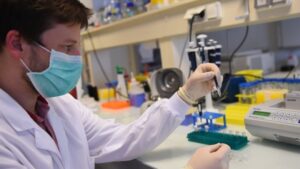 As school year nears, some warn Canada lagging behind on approving COVID-19 saliva tests
Giving a school-aged child an invasive, uncomfortable nasal swab test for COVID-19 might be tricky.
Asking them to spit in a cup? It could be a simpler approach.
Both researchers and public health officials are actively trying to launch COVID -19 saliva tests for schools as kids go back to class yet there is no official word when it will be allowed in Canada.
Researcher Dr. Michael Glogauer, a professor in the faculty of dentistry at the University of Toronto has been focusing on saliva as a diagnostic tool for the last two decades and believes that Canada is behind, since South of the border, the U.S. Food and Drug Administration (FDA) has approved , five saliva-based tests .  We are always playing catch up, however Dr. Glogauer's own team is focusing on one of the FDA-approved saliva-based lab tests already in use in the U.S. and is now applying for Health Canada approval.  Please click here for the entire article.